Take a Tour of Sydney's New Castle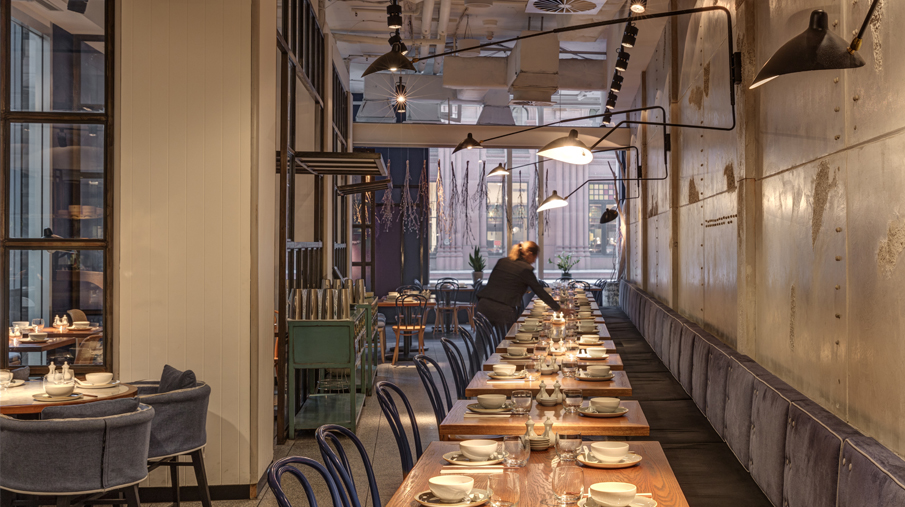 When you're living in a city as cosmopolitan as Sydney, it can be tricky to decide which way to go - a pied-á-terre in one of the extraordinary colonial buildings that line Hyde Park or a glass-walled contemporary masterpiece that brings the glorious views centre stage.
In fact, the who's who of Sydney's social scene can be roughly divided into two camps – heritage or state of the modern art. But with UDS Australia's new, uber-luxurious Castle Residences in the heart of Sydney's CBD, you get the best of both worlds – grand heritage living and pure modern luxury.
Adjoining this new residential marvel will be the iconic Porter House Hotel, its heritage sandstone arches in Victorian Classic Style have added a graceful elegance to Castlereagh Street since 1876. Now they've been given a new lease of life with a beautifully considered design by Candelapas Architects and interiors by StudioAria.
These new Manhattan-style apartments overlooking Hyde Park are where heritage chic meets unparalleled modern design, Sydney-style. The design begins with first principles of elegance and timelessness with sculptural cantilevers, alcoves and honeycomb-like arches. It brings together historical and contemporary architecture to achieve a perfect balance of beauty and liveability.
And while only the lucky few are destined to call this new castle home, let's take a look at what it might be like to be part of this legendary living experience:
From the street.
As you stand on Castlereagh Street, you'll see that interwoven into the striking modern structure that appears to float over the iconic heritage-listed building is a keen eye for bespoke contemporary styling.
You move towards the residences and can immediately recognise that these are signature homes of immense simplicity, comfort and splendour.
The interior design.
Opening the door to your apartment reveals an interior designed in concert with the external architecture to produce memorable experiences long on glamour, line and spatial flow. The subtle curve of countertops, etched mirrors and cabinetry echo the Porter House's scalloped windows, with unimpeded views of Hyde Park's verdant canopy.
Everything your eye rests on features rich artisan detailing designed for enduring elegance and appeal. Beautiful natural materials and textures work together in harmony – elegant pale limestone, oak timbers, graphite and bronze create floating, opulent layers throughout every space. You know these interiors will stand the test of time.
High above the Park.
You wander through your magnificent Gaggenau entertainer kitchen, across the free-flowing living space to a lushly landscaped private balcony and be instantly connected to the green space beyond. You're high above the city hustle and bustle now – and you feel instantly serene and at home.
This is your platform for enjoying the best of Sydney. With the stunning year-round climate, you'll probably dine alfresco here every day or effortlessly entertain guests with a glass of fine wine.
Extraordinary amenities.
The luxury experience doesn't end at your apartment's threshold. As a resident, you have exclusive access to an uplifting communal roof garden and luxury pool – a place of respite in the city's busy heart.
Beyond the grand lobby, all of Sydney is yours to explore. A veritable rollcall of fine dining establishments, entertainment and luxury retail nearby makes the Hyde Park precinct one of Sydney's most sought-after addresses.
But you know you don't have to leave home to enjoy an extraordinary experience. With the new Porter House Hotel, you have luxury 5-star services at your fingertips.
A life lived exquisitely.
Your imaginative and memorable address evokes a thrilling sense of time and place, irresistible to any who seeks the very best in life. This is indeed a residence with a history, heart and soul like no other.
Welcome home.